Quickboats wanted a short 30 second promotional video for their Facebook page to promote the main features of their product.
Making the most of facebook's auto play feature we suggested an upbeat music montage that would capture people in the first few seconds of play.
The Results!…..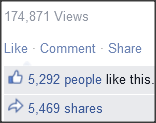 Short videos are perfect for social media as they are very shareable.
This video also makes the most of  Facebook video's autoplay feature as you can still enjoy the clip and watch it all the way through- even with no sound.
With the visual graphics you have absorbed all of the information that the company wanted to convey. They can also use it for trade shows other online video advertising.
By containing compelling high quality visuals, it captures the audience in the first 5 seconds of the video. In order to make a compelling social media video,
-Consider what people will see as they are scrolling in their news feed, when the video auto plays you don't have long to grab their attention.
-It either has to be a strong, compelling image or a sequence that flows in a logical order and builds curiousity in watching further. Never start with you logo or branding, this is something you should end on after you have the audience's complete attention.
Contact us today for more information on how to create your own 30 second promotional video.